Day 16 → Someone or something you definitely could live without.
Haha...this is such a loaded question. I could think of two (or three) people I could add to this list, but we're so not going there! So I'm going to go with "Something I could live without".
I could live without housecleaning, laundry, and cooking. Ok...maybe not cooking. I really do love cooking! I could live without judgmental people, I could live without know it all bitches, I could live without stuck up people. I could live without seafood.
Ehhh...that's all I've got. I don't know what's up with me the last week or so. Just not a whole lot to say I guess.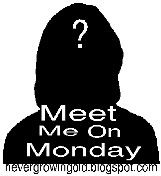 1. What is your favorite dessert?
Yummy... Better than Sex cake
I seriously have to tell myself, "Step away from the cake!!!"
2. What do you wear to bed?
I sleep in naked! So comfy!
3. Do you get regular manicures/pedicures?
I give myself mani and pedis usually once every couple of weeks. I have to keep my nails polished, if I don't they break! You can usually find me rockin' a bright pink color.
4. Did you play any sports in high school?
I was a cheerleader in Jr high, does that count?
(not me!)
5. Do you have an iPod?
I do! I have an iPod Touch and I'm totally addicted to it! I love that I can get online on it, and I'm so addicted to the games it's not even funny!
Hope you all have a great day!