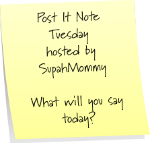 I love Tuesdays now! I also love these sticky lil boogers! If you'd like to play along you can do so by clicking on the little yellow one above.
Day 04→Something you have to forgive someone for.
I need to forgive my Dad for not being there when I was a child.
My Dad was a career soldier. He was in the Marines for 6 years.
He was in the Army for 19 years. Once he retired from the Army he worked civil service for a good 10-15 years before finally retiring all together.
He lived close to us (within a few hours drive) most of my childhood until he was stationed in Hawaii.
I spent two months in Hawaii with him when I was 12. After that I only saw him 3 times until he moved to Louisiana. So from 12 - 33, I only saw him 3 times.
We're not as close as I'd like for us to be. We're both at fault for that though. It's not all him.
But I do need to forgive him, and let it all go!!