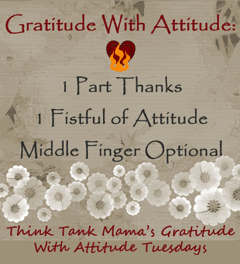 It's that time of the week again.
Think Tank Momma's
Gratitude with Attitude Tuesdays. I don't have a whole lot this week, but I do have a couple. I'll warn you now, it's really more attitude than gratitude! I'm cranky!
I had to go to the store yesterday to pick up a couple of things and as I'm walking into the store I see this...
(
Not the actual people that I saw
)
These two guys were walking in front of me into the store. Thank you so much for showing me your drawers, nice Spongebob pattern by the way. You may want to ask your baby momma to buy some bleach to wash those dingy fuckers though. Nasty!
(Do you see what I see? Two? Two pair of drawers?"
But this whole sagging thing has gotten totally out of control. Pull your fucking pants up already. It's not attractive in the least. Not to mention that you walk around holding your damn crotch because that's how you apparently hold your damn pants up. Uugh.
And "stars" of Hollywood...you're not fucking helping either.
Zac Efron
Lil Wayne
Is he wearing blue, pink orange and white drawers? Does his belt say rape??
Then as I'm doing my shopping I see this...
Not once,
Not twice,
But three times.
Ladies, I get it. I wear low rise jeans too. I also know that YOU KNOW when you sit down in those pants that half your ass if going to hang out. Either put on some drawers or wear a shirt long enough to cover that shit. Even if you're cute...it's NOT! I'd love to say that the three women I saw in the store were this thin, unfortunatelymy eyes will never be the same! YUCK!
I swear my damn dogs are about to drive me out of my fucking mind today. I've been yelling at them since yesterday morning when I got up! The itching, scratching, licking, snoring, farting, crying for their damn Daddy, scratching on the bedroom door when their damn Daddy is sleeping and whining the whole damn time is driving me fucking insane today. I had half a mind to send them to work with their damn Daddy!
You know the sad part? They're Daddy finally gets up for work this morning (after the dogs scratching at the door and whining all damn night for him) and what do they do? They climb up in MY lap and stare at him. They do this every night when he gets home from work too! WTH??
And guess what they do once their Daddy leaves for work? They fuckin' go to sleep. I guess I shouldn't complain, at least I'm not yelling at them while they're sleeping. Give me a few minutes though...you never know!
I've been up all night. I don't know why. Yeah, it's gonna be a good day for me.
This will be me today...if I'm lucky!