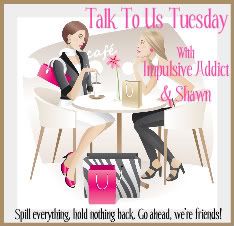 It's been a little hard for me to get into the hang of blogging again (in case you haven't noticed) so I decided to link up with
Shawn
and
Impulsive
.
I have baby fever. As I mentioned in my last entry, I found out that I'm going to be a Grandma this past December and I couldn't be happier. My Pinterest is overflowing with baby stuff.
My Son got to feel the baby move for the first time yesterday. I cried like a baby when I found out. This whole experience has turned me into an emotional, blubbering idiot.
I've started tanning again. My (Podunk) little town is now down to two tanning salons. One is awesome the other is dirty, their beds are old and the staff lazy. I love the salon I'm going to but DAMN! It takes an act of congress just to get an appointment.
Hubby's daughters are coming down for Easter dinner this weekend. Should be a nice day.
I really need to wash my car but every time I've planned to wash it the weather doesn't play along!
I'm completely addicted to The Hunger Games books. I finished reading the second book yesterday and I'm depressed. I'm depressed cause I know I only have one more book to read and then it's over.
Well, that's all for me, y'all have a great day!