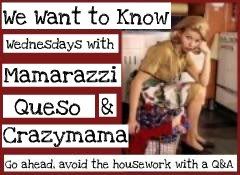 Make sure you stop by
Mamarazzi
and
Queso's
blogs to check out their answers and to grab the questions!
1. How did you celebrate Halloween? Adult party? Trick or treating? Trunk or treat?
Very quietly. We stayed home. We didn't even have one kid come to our door. Which was great cause we'd already eaten almost all of the candy lol.
2. What candy is your favorite/the first thing you steal from the kids?
Reese! Any kind of Reese. Those things are like crack. Just sayin'.
3. What kind of candy do you give out, is it your favorite? Or something you know you won't be tempted to eat?
We bought Tootsie Rolls this year. And ate almost all of them lol.
4. How soon after Halloween do you take down decorations and put away decorations?
I don't normally decorate for Halloween. I guess I'm too lazy lol.
5. When do you decorate for the next holiday?
Well, I would say Christmas but since I'm going home this year I don't know how much decorating I'll be doing. I'm sure we'll put up the tree since Hubby will still be here and spend Christmas eve with his girls. But other than that, I wont be doing much.
Y'all have a great day now, ya hear?