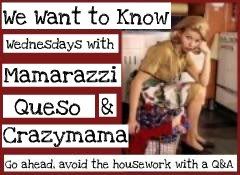 If you'd like to play along with this weeks We Want to Know Wednesday you can go by
Mamarazzi's
,
Queso's
or
Crazymama's
blogs and grab their button and the questions.
1. When was the last time you lost your temper?
Probably today. Probably with my dogs (Bebe's kids). I don't know what's gotten into those two lately but man they're working my (and hubby's) last damn nerve lately.
No one believes us when we tell them how bad they are. It's true...they're BAD!
2. What 3 words best describe you?
Loving, caring, honest.
3. What movie could you watch over and over again and never get tired of?
The Hangover. I laugh every time I watch it. I like to laugh.
4. If you could do something dangerous, just once, with no risk, what would you do?
Go sky diving. I really want to. I'd have to go tandem though. Cause I know when it would get down to it there's no way I'd jump on my own lol.
5. Which is more important, intelligence or common sense?
Common sense. Without it, most people are pretty damn dumb. Sorry, just my opinion.
Hope you all have a great hump day!