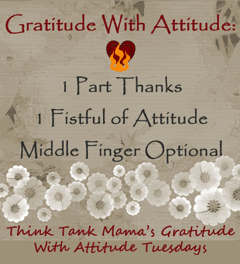 Today is Tuesday and for the first time I am participating in Gratitude with Attidude. If you're not in the know go check out
Think Tank Momma's
blog. What it means is that I get to give the one (or two if I feel so inclined) finger salute to those
douchecanoes
people, places and/or things that have managed to piss me
the fuck
off this week.
Remember me telling you about the young couple that was going to come and dog sit for us last weekend while we stayed in VA for Mr Man's daughter's wedding? Well the morning we were leaving to come home I sent her a text message to let her know we were on our way home and this was her reply, "Ok I just got here to let them out!"

???? So I asked "Didn't you stay there last night?" And she said "No, we stayed Friday and Saturday night, but not last night. So here's my note.

"You fucktard! You left my dogs in those cages all of Sunday night and came at 11 am to let them out? Those poor fucking dogs. Pray I don't see you anytime soon I might have to bitch slap you! Don't have any kids anytime soon, you'd make a horrible fucking mother!"

This past Sunday when had to drive to Charlotte to drop off my inlaws I called a friend and asked her to come by and let the dogs out for me. We got home that night and all was well. I got a text message from the friend yesterday saying "Dee I'm so sorry but I was sick and totally forgot to come and let the dogs out!" Poor thing was scared to tell me, she thought I wouldn't want to be friends with here anymore! I mean...she was sick!(yes, I feel horrible that my dogs were in their kennels the 12 hours that we were gone, but the girl was sick!)Here's my note to her.

"Really it's ok Jess, you were sick!"

Note to me: "You've REALLY got to find a kennel or something for these poor dogs!!"

Dear House "oooh ya nasty! I've really enjoyed busting my ass to clean you but if you get this fucking messy again I might just have to burn you down!"

Dear 1999 Ford Escort piece of shit car...this whole dead brand new fucking battery thing is really starting to piss me off. I can't wait to send you to your death. Ok so I'm not going to send you to an early death, I'm going to GIVE you to a single mom that I know that is working two jobs and taking a cab back and forth to work. But I swear you better be on your best behavior for her...she's a single mom damn it, she has enough stress in her life! Nikida, I apologize in advance if this piece of shit gives you trouble. But hell, before I can get rid of it I know I'm going to have to fix the altenator/starter, it has a new battery and brand new tires! So it should be good to go!

Dear Horny Pug and Gangsta Pug, when your snorning is so damn loud that I have to turn the tv up in order to be able to hear, we have a problem! If you had noses I would totally put clothespins on them. Just sayin'.

Dear Meeko...thank you so much for inventing the word "douchecanoe!!" It's my new favorite word! You're going to be famous for coming up with that word one day! Love love love your snarkiness!

To that new pull ups commerical...do you really fuckin' think someone actually wants to download that OMG annoying potty dance song? And really? There's a dance too? Kill me now! I mean, I don't have little kids but would you want your child singing and dancing along to this one?
And now for some pics! As I was cleaning yesterday I started to realize something, I'm a bit obsessed with a few things! What? You need proof?? Booya!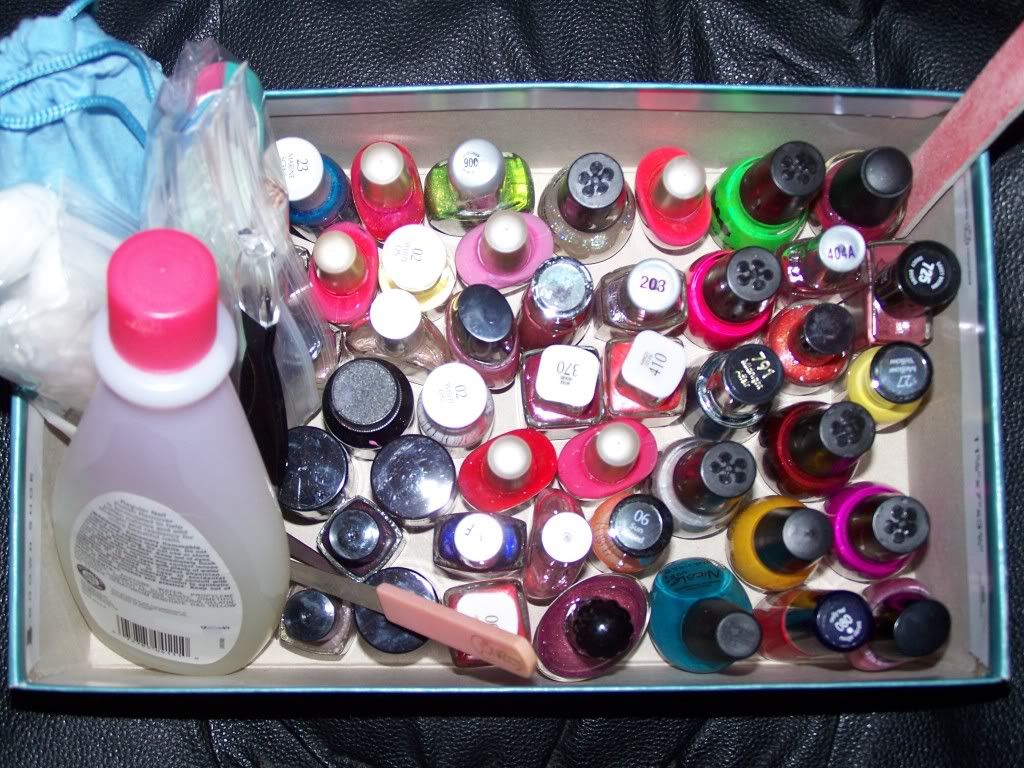 Nail polish. That is a LARGE (size 10) shoebox people! And really...don't you just love the colors? I normally wear pink on my fingernails. But on my toes...oh, on my toes I go nuts! It's nothing to find me with a cool shade of green, blue, purple, yellow, orange on my toes!
I have an inkpen drawer people. Do I need to say anymore? I'm an inkpen freak! If you let me use one and I like the way it writes I'm likely to steal borrow it from you...for good! Oh and the mega crayola markers...hubby and I like to write notes to each other on the bathroom mirror, it's something we've always done. You know, cutesy notes like "I love you!" Those markers work really well! So if you'd like to vandelize decorate someone's car for their birthday or wedding or such...get these!
Make up...drawer 1.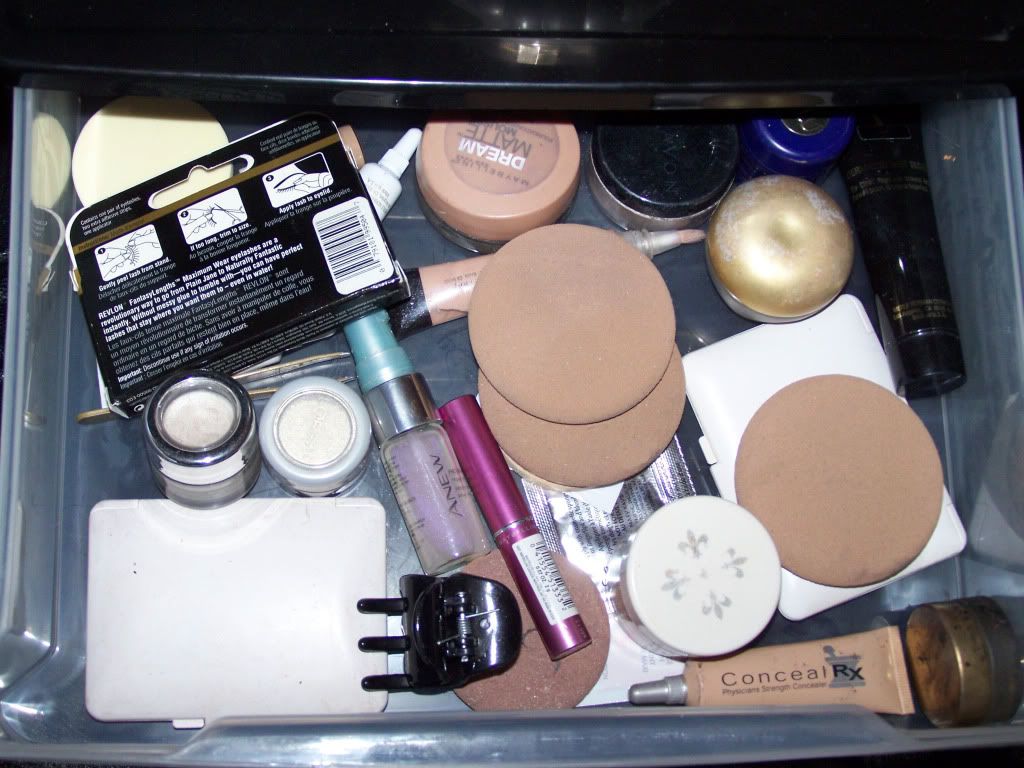 Make up...drawer 2.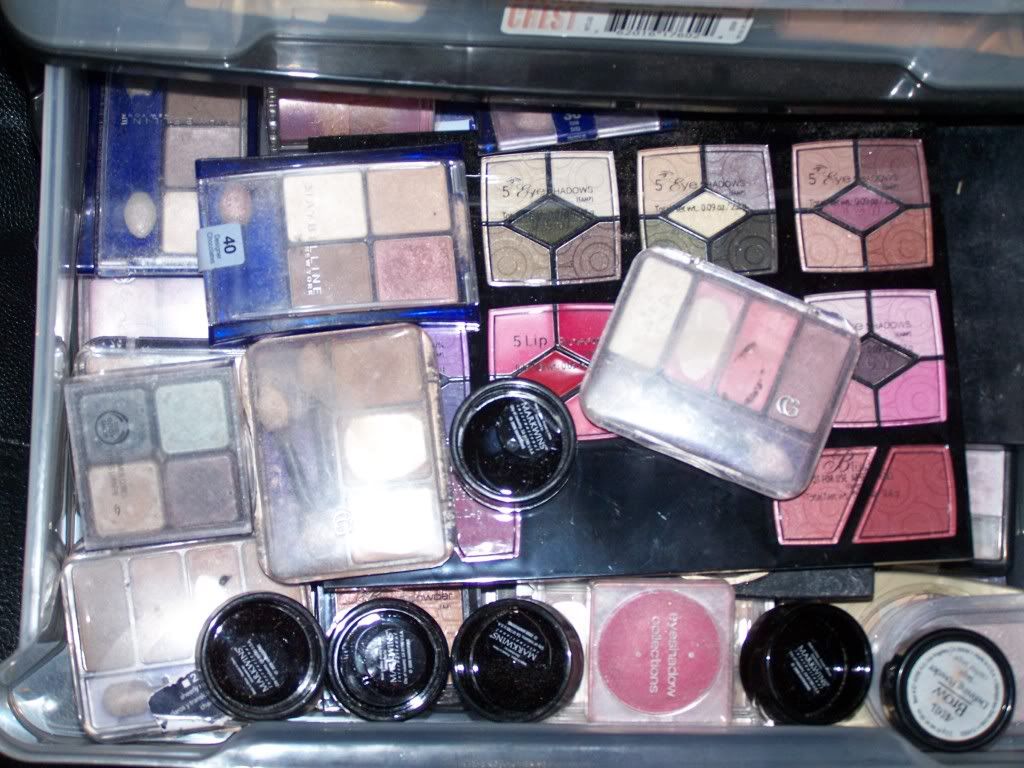 Make up...drawer 3. This entire drawer is eye shadow. I mean really...how much eye shadow can one person use?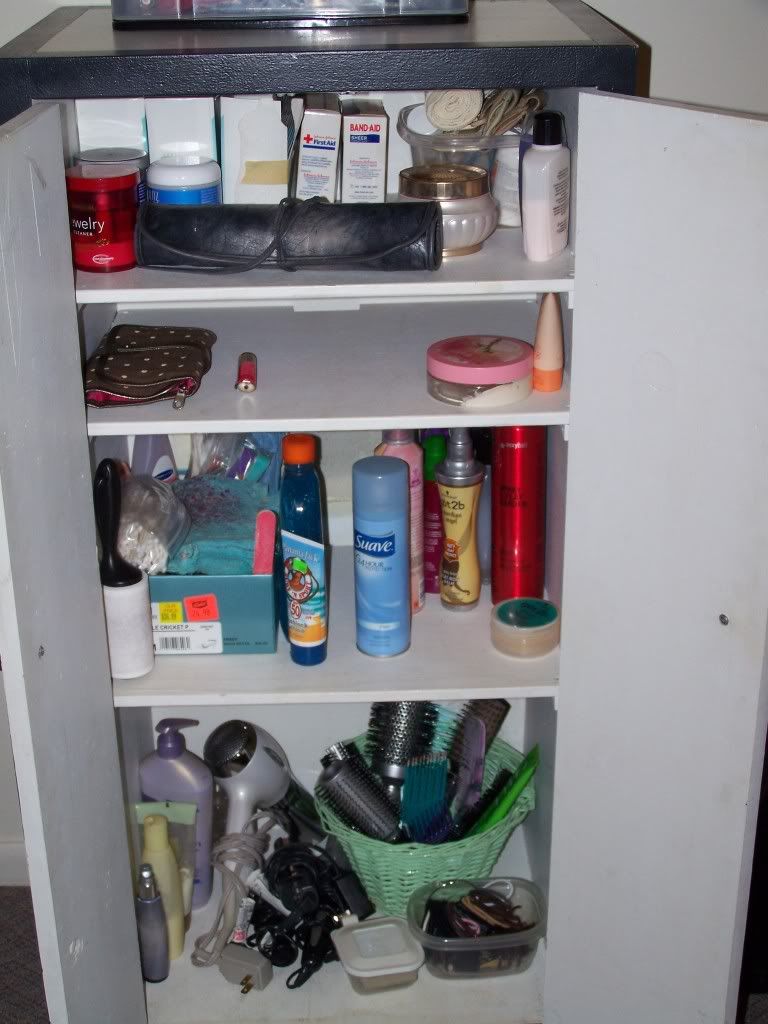 Hair products, appliances, brushes, combs, ponytail holders, barrettes, etc... (this is the inside of the zebra cabinet!)
That concludes the tour of my obsessions that I didn't even realize I had until I started spring cleaning like crazy yesterday.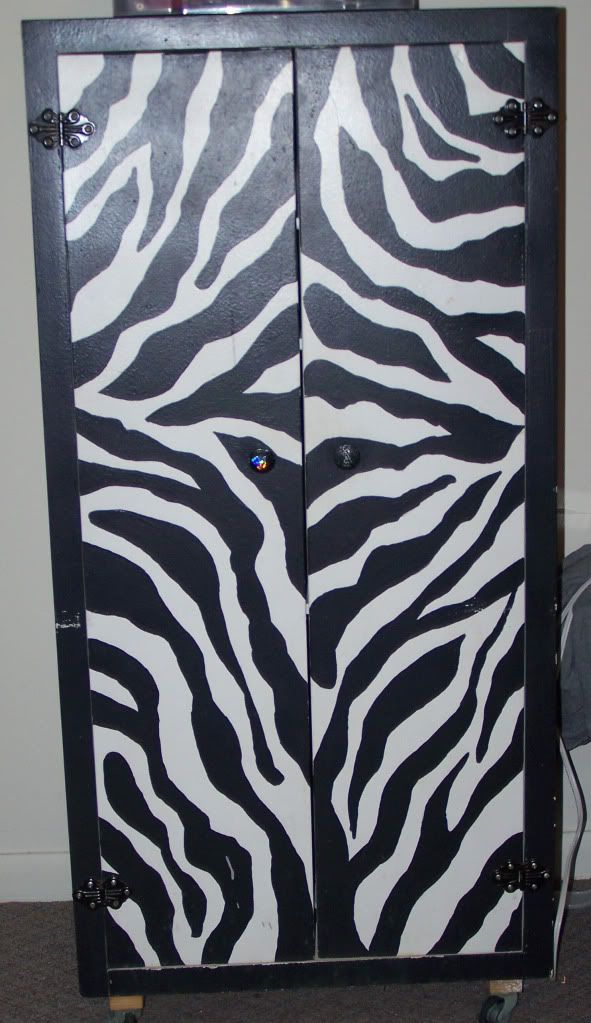 The famous zebra cabinet. What else would you call it? Just sayin'! (I will never win any awards for taking straight pictures!) This was Mr Man's daughters when she had her "animal print bedroom!" When she got over the animal print she gave the cabinet to me.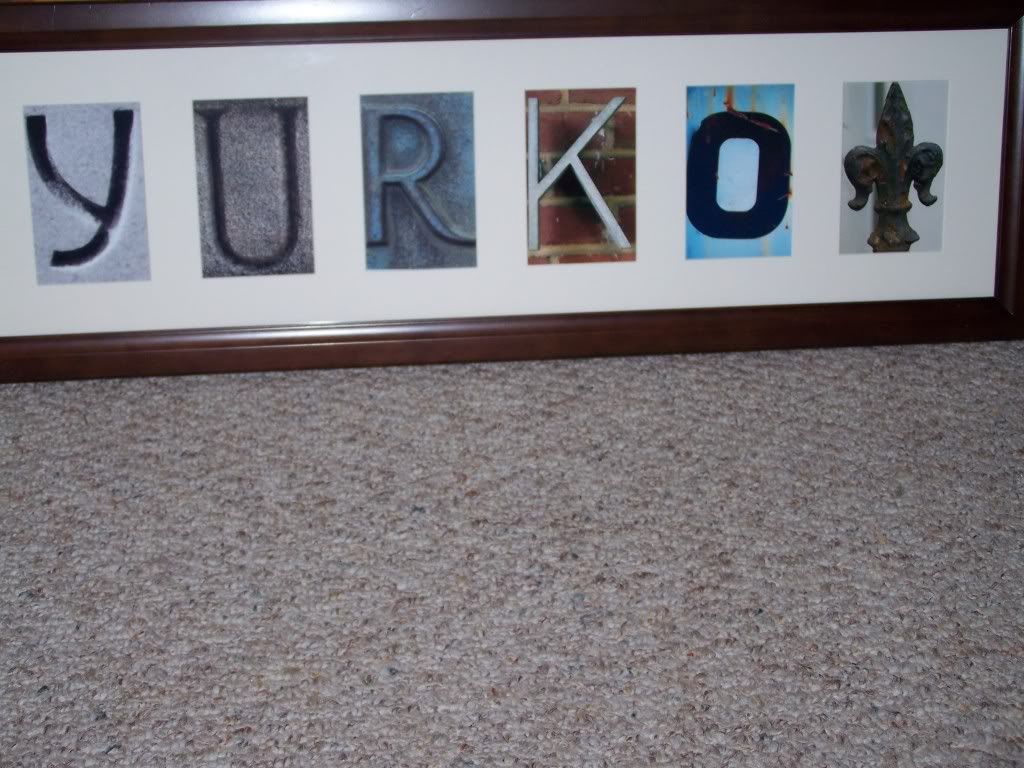 The photo project I was working on yesterday. It's our last name no shit huh?. I found the pics on flckr and found the fleur de lis on google images and printed them all out. Sounds easy enough right? Hells to the no! You wouldn't believe how hard it is to find all the letters for your last name that will print portrait instead of landscape. The letter O is a little crooked in the frame, once I fix that I'll be ok with it. Now...to get Mr Man to hang it up this weekend. Wish me luck lol.
I'm sore as hell from cleaning all day yesterday! So today I've been couch surfing all day. I was supposed to have a dr's appointment but since my car is being a total fuckin' bitch I had to cancel it. I was going to get the results of my MRI damn it!
I hope you're all having a good day! So tell me...what are you "obsessed" with?