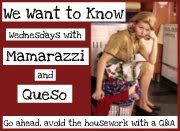 1. If you could be on any game show what would it be?
Wheel of Fortune. I'm pretty good at that one.
2. If you could stay any certain age forever, what would it be?
30...it was my "favorite" age. If there is such a thing.
3. What were you doing 30 minutes ago?
Ahhh....sleeping. Considering I'd been up for three days straight it was HEAVEN!!
4. What would I find in your fridge right now?
Coke, Tea, Chinese Food, Eggs, bacon
5. If you were a piece of furniture what would you be? Why?
A bed. Cause at least maybe then I'd get more rest lol.
Be sure to stop by
Mamarazi's
and
Queso's
blogs to play along!