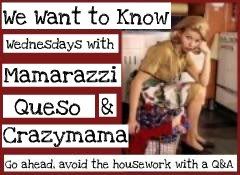 You know the deal! Clicck on the purdy button up there, grab the questions and play along!
1). If the blogging world had a talent show, what would your act be?
Oh hell lol, the only thing I can think of would be designing blog layouts lol.
2). What's the most likely reason you might become famous?
Haha! For going postal on people. Are people getting on your nerves as bad as they have been mine lately??
3). What question are you repeatedly asked that you are tired of hearing?
Are you crazy? (Why yes, yes I am!) Weren't you scared when you finally met your hubby in person? See, we met on line and everyone thought I was nuts. I mean, I hardly think that a man who spent over a year talking to me on line is going to turn out to be an axe murderer. Just sayin'.
4.) What's the last thing you broke?
A flyswatter I think lol. Long story.
5.) Finish this sentence. I can't believe I used to ________.
think that living so far away from my Son and family would be easy. It's not. The more time that goes by, the harder it gets. It sucks. I hate it. The end.
So now it's your turn. Go grab the questions and join in the fun!