Holy hell y'all! I've been "working" on this layout (off & on) for at least a month now. I wanted something bright and summery and was having a hell of a hard time finding just that. I ended up deciding on this color combo. It's bright, that's for sure. Not too sure how summery it is though lol.
I didn't think I'd ever finish this one. Dang! But I'm gonna live with it for a couple of weeks lol. I'm too tired of looking at code to ever think of redoing it anytime soon!
But, enough about the new design, lets get onto the fun!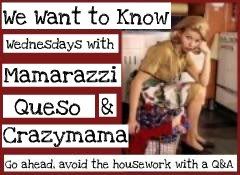 1. What is the best or worst pick up line you have ever been given?
"You can call me Fred, cause I can make your bed rock! *shivers*
Needless to say we lived happily ever after! NOT!
2. What is your most and least favorite day of the week?
Most favorite..
.
Least favorite...

3. How many hours of sleep do you require each night?
Lol I require lots but I have insomnia so it doesn't really matter what I require lol!

4. Is there a song that takes you back in time? What song is it and what memory is it attached to?
The Black Crows Shake Your Moneymaker CD. It just takes me back to when I was younger and "didn't have a care in the world." Boy, those were the days lol.

5. What is your biggest guilty pleasure?
These days, it's got to be my Java Chip frappuccino from Starbucks. Thanks to these I've gained back the 10 pounds that I lost. Damn it!